2022 Club Championship - Squash Knockout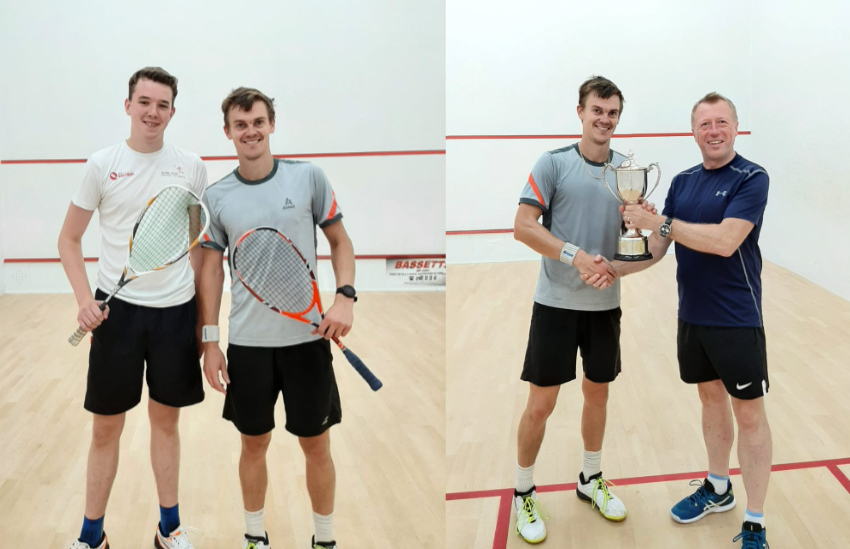 Reid wins in three! In front of a sparce but knowledgeable crowd, Mike Reid and Adam Houldridge contested a high quality, keenly contested final. Both had come through the rounds well and speaking to the players they defeated, the games were enjoyable and again keenly contested. Mike, as the favourite, got away to an early lead in the first game with some excellent drives and good length testing Adam`s patience and positioning. Late in the game Adam began to adjust to the pace created by Mike and scored his first points but he had left himself too much to do and lost the game 15 – 4. In the second game Adam started well and put Mike under some pressure but his vast experience and all-round squash knowledge allowed him to pull away. Again late in the game Adam took a number of points and started to look a little more comfortable in the match but Mike once more asserted himself and won the game 15 – 7. In the final game both players played some excellent squash driving down the walls with authority but in the end Adam`s boasts just kept catching the tin and Mike`s superior lob and greater accuracy prevailed and resulted in a score of 15 – 6 to win the Championship 3 0.
This was a really entertaining match full of good technique and tactical play. To see both players contest the final in a competitive yet sporting manner speaks well of the sporting values put forward by North Ferriby Squash and Racketball Club. I would like to thank Paul Norton for umpiring the match, with his vast knowledge of Squash competition, who better to do this. Although, as he remarked, in truth the players could have done the game themselves. New Club chairman Martin Shaw was on hand to present the trophy to Mike Reid – a very worthy champion. Congratulations to him and also to Adam who a number of people have watched improve to the point where he will be contesting this final many more times in the future.
Prelim Round
(by 11/4/22)
First Round
(by 2/5/22)
Quater Finals
(by 23/5/22)
Semi Finals
(by 13/6/22)
Final
(25/7/22)
Mike Reid
Mike Reid
Mike Reid
Mike Reid
Martin Shaw
Martin Shaw
Brian Matson
Matthew Dowson
Simon Hudson
Simon Hudson
Gordon Bell
Tim Hunter
Paul Watson
Tim Hunter
Ian White
Paul Watson
Anthony Bennett
Paul Watson
Paul Watson
Mark Vahey
Mark Vahey
Adam Holdridge
Adam Holdridge
Paul Sissons
Paul Sissons
Vanessa Brown
John Sherburn
Adam Holdridge
Adam Holdridge
Adam Holdridge
Rob Brockelsby
John Newman
Julian Chalk
Mike Clemson
Ian Brogan
Julian Chalk
Julian Chalk
Rich McAlpin
Mike Clemson
Mike Clemson
2019 Club Championship - Squash Knockout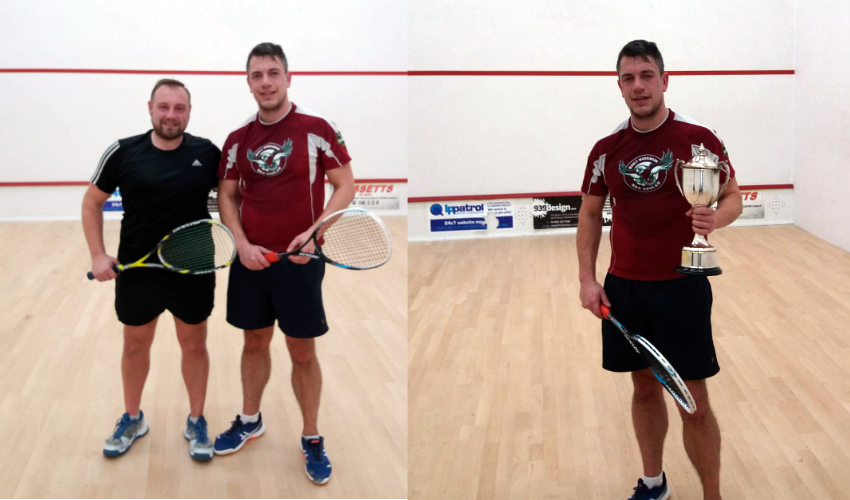 Padgett wins with an exciting comeback!!
The Annual Squash Club Championship Final took place on Thursday 12th December 2019 and was a superb advert for the sport between two of our best players Paul Norton and Nick Padgett.
The match got underway with Paul taking a commanding lead playing some unplayable squash full of good length and an accurate short game and quickly took the first game 9-0. It was much the same in the second with Paul taking a 5- 0 lead but after a long rally Nick began to fight back and wore Paul down with some excellent squash moving Paul about the four corners of the court and taking the game 9 6. Nick then began to take control and played some beautiful points full of patience and precision in the 3rd game to take it 9-2. The 4th game was a seesaw affair early on with Paul showing real fight and Nick putting up wonderful defence. Gradually however, Nick continued to pressure Paul and he began to go for too much with his shots and with Nick attacking constantly the writing was on the wall and Nick took the game and the Championship 9- 4.
Both men played with great skill and a fantastic sporting attitude and never once questioned referee Martin Shaw who handled the match with aplomb, although he was the first to comment on the first – class sportsmanship shown by both players – good mates but keen competitors. This excellent example of squash at its best should have been witnessed by a larger crowd and I hope the next Championship is better supported. My congratulations to both players and in particular to Nick - a fitting champion.

Prelim Round
(by 1/09)
First Round
(by 22/09)
Quater Finals
(by 13/10)
Semi Finals
(by 3/11)
Final
(17/11)
Paul Norton
Paul Norton
Paul Norton
Paul Norton
Julian Chalk
James Maxwell
James Maxwell
John Sherburn
John Sherburn
Mark Vahey
Anthony Bennett
Anthony Bennett
George Bidder
Tim Hunter
George Bidder
George Bidder
Dave Moorland
Ben Flower
Ben Flower
John Horler
John Horler
John Horler
Nick Padget
Martin Douglas
Mike Jones
Edward Bidder
Edward Bidder
Edward Bidder
Colin Brooks
Mike Clemson
Phil Parsons
Nick Padget
Steve Birss
Phil Parsons
Phil Parsons
Nick Padget
Nick Padget
Ian White
2018 Club Championship - Squash Knockout
First Round
(Played by 15th April)
Second Round
(Played by 29th April)
Quater Finals
(Played by 27h May)
Semi Finals
(Played by 10th June)
Final
(Played by 24th June)
Colin Brooks
Martin Shaw
Dave Moorland
George Bidder
Chris Bowlas
Martin Shaw
Mathew Harding
Dave Moorland
Dave Moorland
Martin Booth
George Bidder
George Bidder
George Bidder
Ian White
Callam Finlay
Callam Finlay
Paul Jackson
Martin Douglas
Duncan Ross
Chris Bowlas
Martin Douglas
Duncan Ross
Duncan Ross
Adam Houldridge
Marc Henderson
Mike Clemson
Chris Bowlas
Mike Clemson
Jon Samuel
Chris Bowlas
Chris Bowlas
Steve Birss
Steve Birss
Steve Birss
John Horler
Paul Norton
Edward Bidder
Harry Hanson
Harry Hanson
Jacob Vahey
Brian Matson
Brian Matson
John Horler
Mike Archibald
John Horler
John Horler
Mark Vahey
John Sherburn
John Sherburn
John Sherburn
Paul Norton
Paul Hammond
Nigel Downes
Nigel Downes
James Maxwell
Ian Brogan
Ian Brogan
Paul Norton
Dom Burnett
Paul Norton
Paul Norton
Ben Flower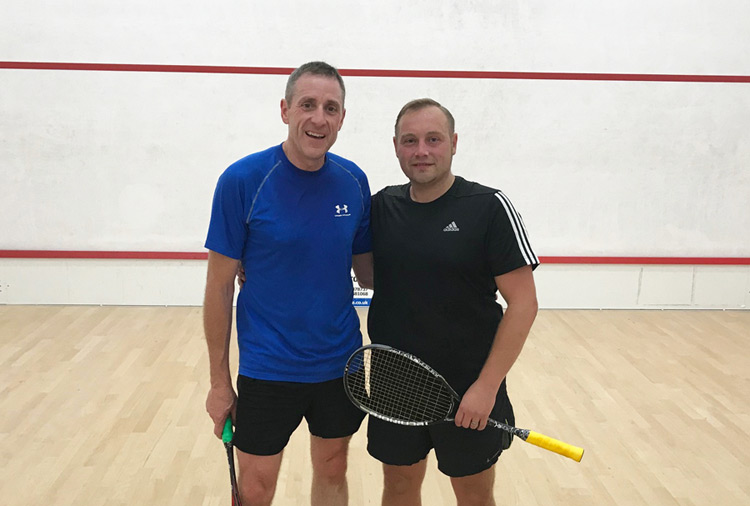 Congratulations to Paul Norton for winning the Club Knockout beating Chris Bowlas 3-0 in the final.